New statistics in the UK reveal that many cases where police used a lot of force involved black people. People who identified themselves as black, or black British, were involved in 36% of these cases. This number is considered disproportionate given that black people only make up 13% of the entire population. White people, on the other hand, make up 57.5% of the population and they only had 45% of force used on them by the police.
Many human rights agencies condemned this picture and urged the police to exercise restraint when carrying out arrests, especially when it involved black people.
Suffering Minority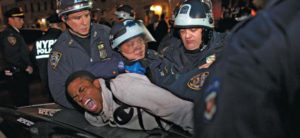 Even though the report covered a three month period, it illuminated the fact that black people face a lot of challenges when it comes to police arrests. While the police insist that some of the cases required the use of force, many experts and analysts have pointed a finger at the worrying trends. Some insist that this picture should be corrected and that the police force should go through thorough training that teaches them about the equality of all races.
This statistical report is hailed as a step in the right direction in London. It is bound to help in identifying cases where police officers blatantly used excessive force where none was needed. Police officers in London have been trained in filling out forms for each case of forceful arrest encountered in order for it to be properly scrutinised.
Forms Of Force
Of the 36% cases that involved black people, 85% of the arrested people were said to be men. Furthermore, police indicated that a large majority of forceful arrests involved people with mental complications as well. In order to restrain these people, the police themselves also risked getting harmed along the way. That is why some people insist on the retraining of police officers. This will help them identify situations that require the use of force and those that don't. Furthermore, they will also be able to know how best to protect themselves during such situations.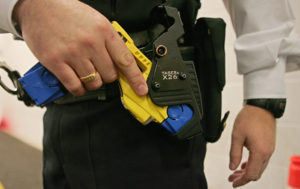 Among the forms of force regularly applied by the police involved the use of handcuffs on people who had willingly accepted arrest. The most dangerous form of force involved the use of Tasers. However, police officers said that its use was more of a tactical measure. That was because they only fired the Taser in 10.5% of the cases that required its use. This means that 89.5% of the times, the Taser was deployed by police officers but it was not fired.
There was also the case of the spit guards. Though new to the police, their use has brought controversies as well. Of the 11 spit guards that were used on women during that time period, 8 were used on black women. This represented 72 % of the female cases involved. 
What To Expect
While these statistics were the first of its kind in London, it has elicited deep concerns from various rights groups including Amnesty International. Given that it will be done regularly, it's expected that the trends will be sufficient enough to prod the police if the worrying trend continues. However, as for now, being a black person facing arrest in London is one of the most unpleasant things.
Check out the prisoner exchange deal signed between Russia and Ukraine.