Indonesia's recent move to evict twelve women from their shared house due to their sexual orientation is bound to spark huge shockwaves in the entire world.
The twelve women were evicted from their home in the conservative province of Java because of their – unfeminine appearance.
Their neighbours reported the matter to the police who responded by giving the women three days' notice to vacate their premises.
The main concern of the religious leaders and neighbours on the subject matter was based on their religious views, which had no base in the country's laws. This has led to criticisms from various human rights groups based in Indonesia and around the world.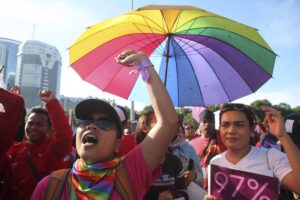 To make matters worse, Indonesia recently unveiled an anti-LGBT police taskforce in Jakarta that specifically handles these matters. They're tasked with bringing LGBT people to "law" (a hypocritical statement given that homosexuality is not illegal in Indonesia, apart from the Sharia-ruled province of Aceh). This taskforce has been involved in four such raids since inception and more is expected given the harsh sentiments made by political leaders against LGBT individuals (most notable is the defence minister who pronounced LGBT people as a worse threat than nuclear warfare).
This particular incident has led to more worries that the police might crack down on more LGBT individuals in the area. Furthermore, given the fact that this incident was handled without any legal justification is sparking more unrest in the LGBT community. Evicting the women based on the assumption of their sexuality is a direct threat to the right of individuals and not just those with LBGT.
Indonesia Not New To LGBT Controversies
This is not the first time that Indonesia has faced similar LGBT-related controversies. There are a number of public floggings that have been held in Indonesia which have mainly targeted LGBT individuals. One of the most recent ones involve the public flogging of gay men in the province of Aceh.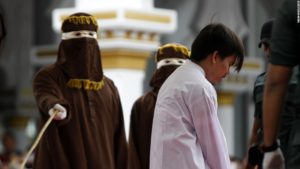 Another such flogging came after the arrest of 141 men in the capital of Jakarta for having a "gay sex party". Consequently, two of the men were publicly flogged the following day (each 83 lashes) for the said "crime".
Human rights watch groups also allege that there are a number of floggings that are being carried out away from the public eye. This came after the May incident which resulted in widely circulated videos all over the internet. Some of the officials and leaders in these provinces are worried that the public floggings are bad and unappealing for investors, hence the need to have them carried out in private.
Unity In Diversity
The country's motto has also taken a hit given the attacks that have been meted out to the LGBT community. Anti-LGBT discrimination is slowly becoming the norm in Indonesia and the officials are doing nothing to stop it. Politicians and religious leaders have also added discriminatory statements which are doing more towards fuelling hatred towards LGBT people.
The country's leader has also spoken out on this issue. President Joko 'Jokowi' Midodo urged the police to protect "endangered" individuals (with reference to LGBT people). Though well intended, human rights groups insist that such support is yet to be delivered to LGBT people.
Indonesia Losing Out Due To Their Fight Against LGBT People

A recent study showed that the Indonesian economy is losing out on more than $12 billion every year due to the widespread discrimination against LGBT people. This is as a result of a number of factors which include education, barriers to employment and lack of healthcare, together with physical, psychological as well as sexual violence suffered every year. Furthermore, more LGBT Indonesians are willing to settle in other countries that prevent any prejudice against them.
Investors are also becoming wary of the anti-LGBT landscape in the country. This came after a Muslim leader called for a boycott of all Starbucks stores because the company's policies condoned LGBT rights.
Human rights groups have also started pushing other countries to create a hard stance against Indonesia's move against LGBT people. Notably was the call by several human rights groups in France to have the country emphasise LGBT rights as core in dictating economic and social collaboration ties with other countries.
It will take time before countries like Indonesia get to accept that LGBT is normal, is here to stay, and in the words of Ellen Page "This world would be a whole lot better if we just made an effort to be less horrible to one another."- Source: Huffington Post