Police brutality is on the rise in many countries around the world. This has led to widespread hatred of the police. One might wonder how it is that many people have a low regard for men and women in uniform even though their main aim is to implement law and order in society. This issue has become a sensational topic in many places around the world (See reactions to Trump's call to rough up suspects).
However, in as much as there are police officers whose intention might be to cause harm to suspects, there is a large majority that is intent in ensuring the peaceful pursuit of justice through lawful means. Here are some of the major statistics on police brutality.
Most Of The Cases Of Police Brutality Don't Involve Crime
Most people assume that in most cases, suspects usually retaliate to police officers hence the need for excessive violence on the officer's part. However, studies indicate the opposite.
69% of the people who were brutalised by police were not even suspected of being armed.
Location Matters When It Comes To Police Brutality
While people might cast the whole police force in the same light, new research indicates that there are certain areas where police brutality is more rampant. This means that there are other factors that drive police officers towards using excessive force that are location dependent.
Black People Are Most Likely To Be Killed By Police
Official statistics indicate that black people are 3 times more likely to be killed by police than white people. This fact applies to white dominated countries.
Nothing Is Ever Done In Many Police Brutality Cases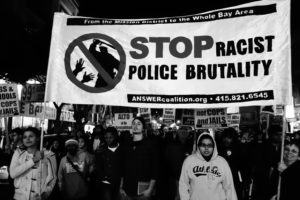 While there are indeed many police brutality cases reported worldwide, 97% of these cases are never resolved. This means that only 3% of the cases end up with the police officer being charged in a court of law. Many human rights organizations have complained about this trend. The main aim of the police is to ensure that law and order is followed. They are the enforcers. However, what happens if they end up breaking the law instead? Does it mean that they can't be prosecuted like ordinary citizens?
These are the questions that are being asked by human rights organisations from around the world. There should be internal mechanisms (that actually work) to deal with rogue police officers. If the trend continues and no police officers face justice, then there is a high likelihood that demonstrations like the ones held in America will be a rampant thing around the world.
Check out these staggering statistics from Warpedspeed.