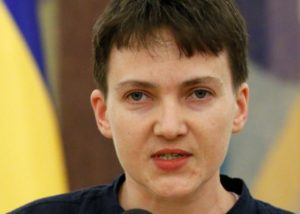 Russia and Ukraine engaged in a prisoner swap agreement in what was seen as a huge step towards negotiating a peaceful resolution to the conflict in the region. The high profile prisoners involved were Nadiya Savchenko, a Ukrainian military pilot and two Russian military personnel.
Even though this deal was seen as a humanitarian act from both sides, Russia still maintained that it was not involved in the war. Furthermore, the speaker of the upper house chambers of Russia maintained that this was not a prisoner exchange but rather an international obligation that required prisoners abroad to serve time in their home countries.
Nadiya Savchenko's Reception
Savchenko returned home to a hero's reception. She was allowed to return to Kiev aboard the Ukraine president's jet. However, this was not the first time that she was popular among Ukrainians. Savchenko is the first woman military pilot in Ukraine and even before she went to serve in the war, she was already a local celebrity. However, her actions while in Russian custody cemented her popularity in Ukraine.
During her trial, she disrupted the sessions at one point to sing the Ukrainian national anthem. She was also steadfast on the war and was vocal enough to renounce the charges that were brought against her. At one point, she even went on a hunger strike to denounce the sentence that had been handed to her.
She was accused of having been involved in the killing of two Russian journalists who were covering the war. Though the evidence was not satisfactory enough, she was found guilty and sentenced to 22 years in prison for murder. (See how dissidents are imprisoned in Iran)
As a show of honour and popularity, Savchenko was elected as a Member of Parliament back home even while still in incarceration.
Russian Military Personnel
On the other side, Ukrainians accused two Russians captured in eastern Ukraine of waging a terrorist war and were each handed a sentence of 14 years in prison. The two had revealed to a Reuter's reporter that they were indeed military personnel from Russia but that they were not on active duty. In a dramatic twist of events, they also accused the Russian government of neglecting their pleas to intervene.
While Savchenko was received as a hero, only a small media reception and their wives were available to receive the two Russians. This was a strategic move to boost her chances of being released from Russian custody.
Show Of Humanitarianism Or Simply A War Strategy?
The prison exchange is seen as a huge win towards fast resolution of the conflict in the region. However, some experts warn that Russia may have used the opportunity for its own gain. One of the reasons of their "humanitarian act" was the impending European Union meeting that was to deliberate on whether they would continue imposing sanctions on the country because of supporting the rebels in eastern Ukraine.
Given that Savchenko had also fought alongside American forces in the war in Iraq, Russia was also keen to have a deal with the Americans. They were reported as to have wanted to exchange her for a Russian arm's smuggler who was being held in the United States. The United States bluntly rejected the deal.